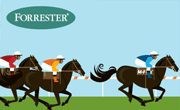 M-Files was counted among the Leaders of ECM in the latest Forrester Report on Enterprise Content Management. Find out why and read the report for yourself!
For their assessment in the Q3 2015 report, Forrester analyzed 11 vendors for and rated them based on their performance in the following areas:
›› Breadth of functionality. Each evaluated vendor includes specific functionality to support the creation, use, and management of business content. Key offerings include document management, collaboration, secure sync-and-share, search, and life-cycle management.

›› Leadership in content management. Selected vendors demonstrate the ability to shape the direction of the market, either through innovative delivery models or through their dominant market presence.

›› A proven enterprise track record. Included vendors have a solid existing customer base among customers with revenues of over $1 billion and can integrate to the other enterprise applications that these companies rely upon. Additionally, vendors included had a minimum of approximately $10 million in annual revenues.

›› Interest from Forrester clients. Forrester clients ask about the evaluated products within the context of inquiry, advisory, and/or consulting. These products are credible candidates for shortlist consideration when our clients are planning an ECM deployment.
M-Files positions as a leader in the Forrester ECM quadrant, strong in both their current offering (all impressions are based on M-Files 10) and their strategy.
M-Files is unique
The report continues on M-Files, stating that the software is "unique with its strong metadata-centric approach to ECM". M-Files has around 300 people, most of them working on improving the technology, which seems to pay off. The Forrester report goes on to elevate the software for its integration possibilities, document management, workflows and Cloud strategy, among other things.
Wait until they try out M-Files 2015 for their next report!
Get the report from M-Files
Head over to their site to read the full report for yourself.
Also read what the Magic Quadrant report of 2014 had to say about M-Files.