So a while ago you got your processes mapped and visualized, user groups have their own landing pages and storyboards that accelerate their work. It was a huge success, on schedule and everything. You're seeing good adoption by the users, but management is losing interest in it. Your funds are shrinking and the new guys in management haven't even bothered using your QMS, let alone mapped their processes in it. You need interest and commitment to get the system to the next level. What to do? Enter metrics.
Not having metrics visually presented together with your processes is a little like working out in the gym without measuring your progress. Without storing the workout data and seeing it every time you go to the gym, how will you know if you've improved or indeed if anything you're doing is effective? Well, a few times per year you can tell that your jeans are a bit tighter/looser, and the shirts don't fit like they used to. But that's not the most active way to monitor effectiveness from workout to workout.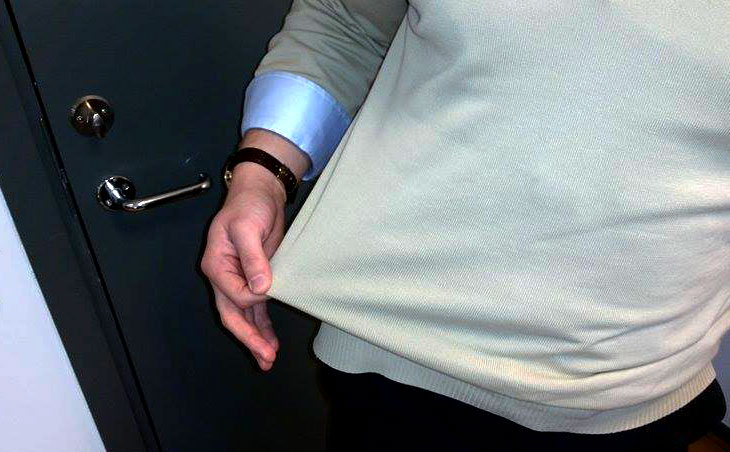 "It feels a bit looser this month, so maybe add two more plates to my lifts… or four?"
The same can be said about working with processes without seeing how they effect the business from day to day. There are two types of QMS: those that are useful in practice, constantly ensuring quality and adding value, and those that are used as evidence to get quality certifications. Even if you implement one of the former, it can soon turn into the latter if the company and its management stops caring for it.
The lack of visual progress and proof of effectiveness is why many people quit the gym before seeing results. The same reason why they lose interest in your QMS. At the gym I use an app which helps me track my progress with every exercise. Some just jot it down in a notebook, but for me the app is easier and has pretty pictures for each exercise, which add to the experience.
Picking out metrics in tune with the raison d'être of your processes/QMS and measuring them just makes the data available. Companies adhering to QM practicies do this already. But making this data visible to all or select groups of users makes the data useful by driving engagement and making actions on this data more likely.
Management should see metrics every day
Continuous improvement is one of the sacred mantras of quality management, with good reason. Without it, the QMS gets old very quick. But continuous improvement depends on engaging both employees and management in the process. This is difficult when management sees the QMS as "for others" and doubly so when new management people arrive, with preferences from their previous companies. They might not even like the software!
But one thing they do like is success, and the company data already helps you measure that. By making those numbers visible in the QMS it becomes an easy and live measurement instrument. Imagine if you will, instead of a slide in a Powerpoint during a weekly or monthly meeting, people can track the performance of their processes from day to day. When a red flag pops up, they start to think: "Why is this? How can we improve this?"
This creates a natural interest within in the company for continuous improvement and measuring performance.
Metrics in TIBCO Nimbus
TIBCO Nimbus has a very elegant way of mapping processes and publishing them visually to the company. It is also possible to connect processes in TIBCO Nimbus to metrics. Link any data as a metric and you can display it with a status icon. Clicking it takes you to the source, where you can look into the details. Below are the steps to getting metrics to work for you in TIBCO Nimbus:
1. Integrate with other systems
Right click an activity or other object and attach a Metric Link. The metric visualizer can integrate with databases/datatables or files with information from CRM, OCR etc. In this example, we choose an Excel that is regularly updated with information from several systems.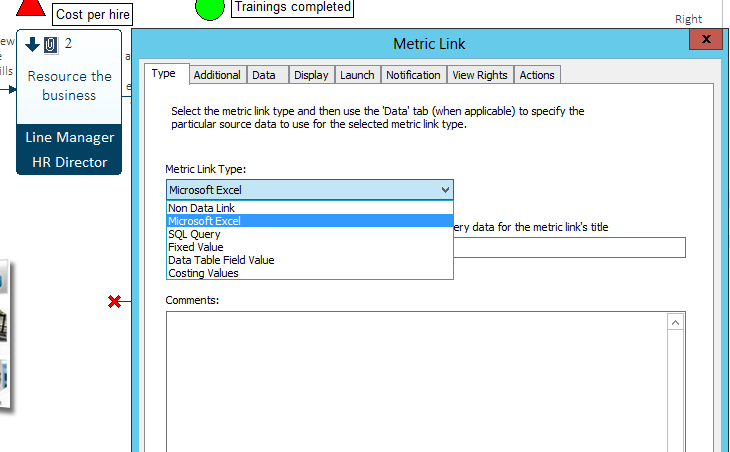 2. Pick out the key metrics, and their thresholds
The organization shall

determine the processes needed for the quality management system and their application throughout the organization (see 1.2),
determine the sequence and interaction of these processes,
determine criteria and methods needed to ensure that both the operation and control of these processes are effective,
ensure the availability of resources and information necessary to support the operation and monitoring of these processes,
monitor, measure where applicable, and analyse these processes, and
implement actions necessary to achieve planned results and continual improvement of these processes.

Clause 4.1, ISO 9001:2008
Different companies value different metrics. It is important that the metrics you choose are in tune with the output/specified results of your process. In this example, our HR section has setup their starting diagram to monitor our time to fill vacant positions, our cost per hire and how many are trainings are completed. The data source provides both the targeted numbers and the actual numbers. In this case we have a "Traffic light" graphic, which displays colors Green when within the targeted range, Red for a specified number below our targeted performance and Yellow for a specified in-between.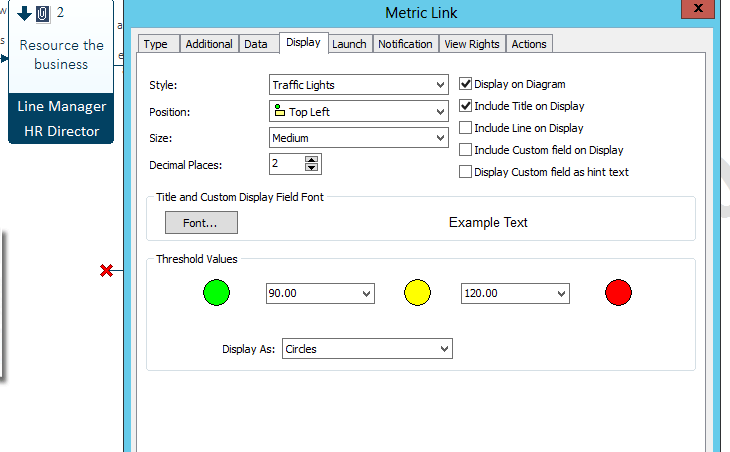 Choose thresholds that make sense based on your targets.
3. Monitor the numbers and act on them
Showing the metrics is one thing. Using these indicators to improve your business is another. If the metrics read yellow or red in some areas, there is more data to explore as to why these areas are performing below expectations. Perhaps the process needs improvement? Seeing a red light or a gauge nearing empty should be the spark to start this investigation.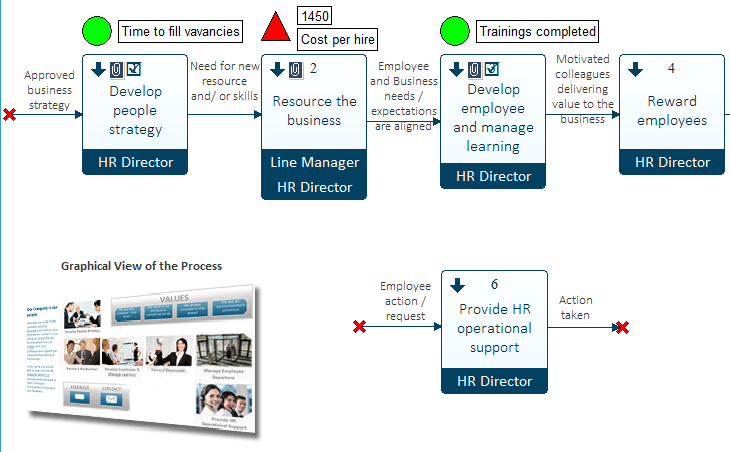 In this case, the red triangle means "Look here!"
Since the numbers showed in TIBCO Nimbus can be live, directly from the system databases, it can paint a very up to date an clear picture of the company performance – with the right setup!
4. Landing  pages with Metrics
ISO 9001:2015 has split performance evaluation from Clause 8 of ISO 9001:2008 into its own clause: Clause 9: Performance evaluation. Making the performance of your processes visible in your QMS is a great way of generating interest and engagement, while keeping an eye on where the company is going. So why not have landing pages with metrics? Or even make them show up at the top level of the company processes, like below?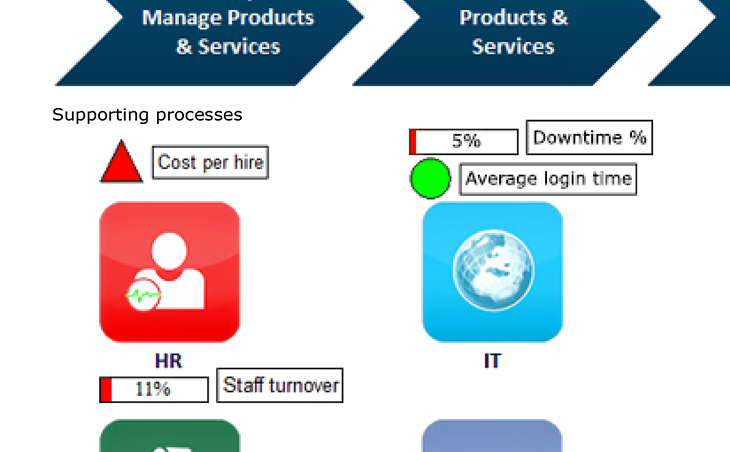 HR needs to look at a few things.
The more visual the performance of your processes are, the more certain you can be of their success. People will see the numbers and that will drive interest in improving the processes and the quality management system.