Documents are not always easy to keep track of. Wouldn't it be great if they could keep track of themselves, and perhaps even help make other parts of your job easier? M-Files thinks so. That's why they are working hard to change the way we work with data and documents.
AI (Artificial Intelligence) is already here, and that's only part of the package of principles and tech M-Files is bringing to the table.
Finding your documents with the best/leading/most innovative software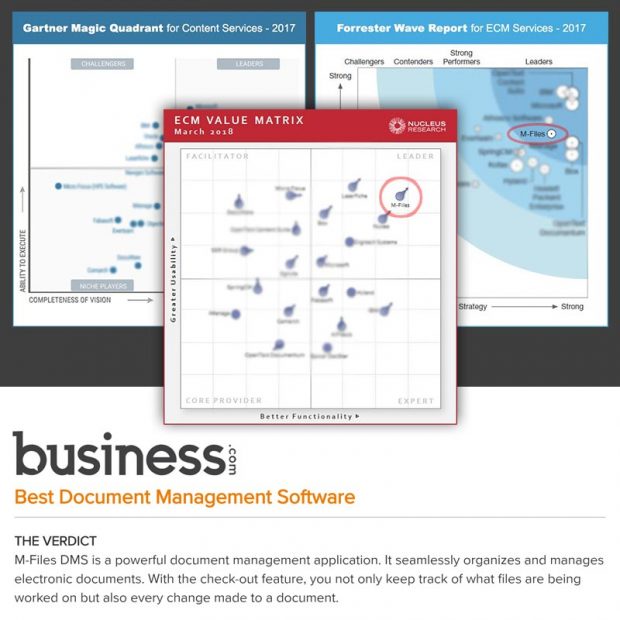 M-Files is a platform which keeps showing up as in a leading position in reports from analysts such as Gartner, Forrester and Nucleus Research (read the latest report, here). Business.com (formerly Top Ten Reviews) has rated it as the best Document Management and ECM software on the market for more than 5 straight years in a row (see full review). Among the oft-cited benefits are:
Ease of implementation
Ease of configuration
Ease of use
Unique solutions to common problems:

Need to make finding and saving data easier and more reliable? Leverage clever metadata structures and AI, which not only makes it easy to store things the right way: it gives users on-screen guidance and suggestions to ensure it!
Need to ensure adoption? Integrate with or show up as part software and services people already use, such as Windows Explorer/MacOS Finder, Office 365, Word, Excel, Outlook, Salesforce etc.
Workflows are hard to design and maintain. Not in M-Files, thanks to a unique balance between freedom and ease-of-use. Ask us to show you how to manage and accelerate your processes with M-Files (why not use the chat in the lower right corner of this page?)
Data spread out in different places, from many different sources? No problem! Often, migration is the part we all look forward to the least. With M-Files, however, migration is OPTIONAL! M-Files is the first and only Repository-Neutral ECM platform.
Migration… optional? Repository-neutral ECM?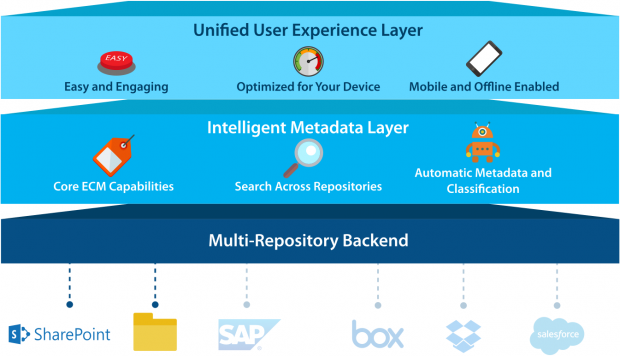 No matter if your data is in Network Folders, Dropbox or other Cloud storage, Sharepoint, ERP/CRM systems, Cloud or On-premise; or if it's coming in via Saving in Word, an e-mail from a customer, a system or a drag-n-drop from your desktop; M-Files can take just as good care of them. M-Files can acts as an Intelligent Layer on top of your systems/storage locations, giving them the same benefits as if they were migrated into M-Files, without having to move the data anywhere. After implementing M-Files, End-Users and contributors can access and edit their documents without any stoppage, while you can use M-Files' clever AI to automate and guide the migration process in the background.
I'll rephrase it and say it again, because this is unique: M-Files can allow you to implement and start using the system first to add value to your data and processes, then migrate and close off other systems in the background as you go – without stoppages for the End-Users!
Finding your documents
UPDATE: This webinar has closed its registration. We will keep you posted about the next one on this blog. Or contact us to get a personal webinar!
If any of this sounds interesting at all, you should consider spending 30 minutes to find out more and register to this free webinar: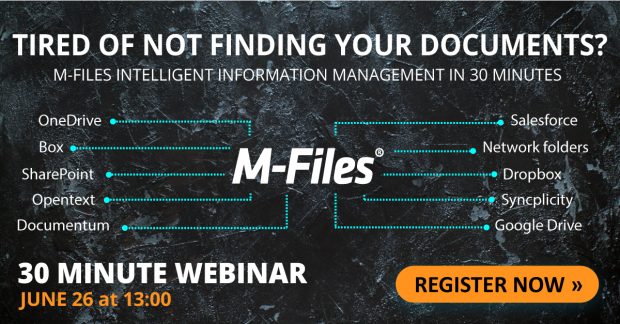 If you are reading this from the Future, when this webinar has already come and gone, please don't hesitate to contact us for more info! Here's my e-mail: ">
You can also chat with us using the app in the lower right corner.