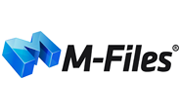 M-Files just received the certificate for ISO 9001:2015. One reason the software developer felt that it was extra important to keep up with the new standard is that many of M-Files' customers rely on their award winning software for their own ISO compliance.
Showing that we're current with the new ISO 9001:2015 standard and committed to continuous improvement is important since many of our customers rely on M-Files for their own ISO certification processes
– Jim Geary, executive chairman of M-Files Corporation
After instituting strict processes for ensuring quality, M-Files was independently audited and found worthy of the coveted ISO 9001:2015 certificate, showing the company's commitment to delivering the highest value to its customers and partners.
M-Files Enteprise Information Management is one of the leading softwares for easily managing your company data.